There is no doubt that a connection with the ocean is highly sought after by people everywhere, who will spend a lot of time, money and effort trying to get closer to the sea. At Jindee, we are all about encouraging this important coastal connection as we know the wide range of benefits it brings to both individuals and communities - and this will be an essential part of the character of the estate.
According to Jindee's Architectural consultant, Ludwig Fontalvo Abello, Jindee is designed to make the most of this connection, as "there is no ocean like this in the world."
"The Jindee foreshore will emulate that of Fremantle, Cottesloe and Rottnest where the coastal living will actually interact with the user - the foreshore will make you a part of it with the built form coming very close up to it," Ludwig said.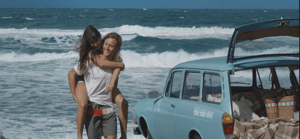 This connection is one we seem to crave. Homebuyers are willing to spend up big for ocean views, holiday-makers will bypass the great culture capitals of the world and head straight for a beachside resort, joggers love taking a break from pounding the pavement for a run along golden sands and many retirees plan to live out their days watching the waves roll in.
This love we have of sand and surf is now being backed by science, which shows that spending time on the coast has numerous health benefits. The team behind one English study are so convinced of the positive impact the beach has on our bodies and souls they called their report The Blue Gym and report on the following benefits:
A plunge in stress levels
Every field of healthcare has identified stress as a major cause of illness, from an array of psychological problems, such as depression, anxiety and lack of sleep, through to debilitating physiological issues such as obesity, heart disease, diabetes and asthma.The moment you make your way across the sand you can feel the stress leaving your body and the sense of calm washing over you like the waves rolling onto the shoreline.Apart from the calming environment the ocean brings, sunlight is nature's anti-depressant. It increases our levels of serotonin, which elevates our moods and makes us feel happier.
2. Gets us into exercise and increases our fitness levels
Anyone who has slaved away in a gym will know what a relief it is to exercise on the beach. A walk or a jog along the shoreline, a swim or surf or simply stretching on the sand barely can be a refreshing change from the indoor gym. If you are carrying injuries the beach is also the perfect place for recovery - there's a reason sports teams head to the cool ocean water. Walking or running through soft sand gets the heart rate up without putting pressure on joints and water offers fantastic natural resistance for activities such as aqua aerobics while the uneven surface forces you to move in ways no treadmill could replicate.
3. A vital dose of vitamin D
The decline of vitamin D in our bodies is becoming an increasingly significant problem because we now spend so much time indoors. Bone and back pain, muscle pain, fatigue and loss in our ability to fight infections are just some of the symptoms experienced by those with too little vitamin D. Wherever your home is in the Jindee community, you'll never be further than 900 metres from the beach to bask in the sunshine and get your daily dose of vitamin D.
4. Ease inflammation with a dip
Remember when your mother or grandmother advised you to go for a swim in the ocean if you have a wound? This is because sea water contains minerals like magnesium, potassium and iodine that help the body fight infection and ease inflammation. Salt water is also a natural disinfectant that cleans wounds and speeds up healing. Magnesium is great for skin inflammation, which is why people with chronic conditions such as psoriasis are often ordered by doctors to spend time at the beach.
5. Free facials
You can spend thousands of dollars at spas trying to make your skin glow or you can simply spend time on the beach. By immersing yourself in salt water and getting a little sunshine (but not too much of course) can deliver most of the benefits you derive from an expensive spa treatment. The salt and sand are a wonderful natural exfoliant, helping to remove dead skin cells and allow your to radiate health and well-being. There's nothing like bathing in salt and drying in the sun to kill the bacteria that can causes breakouts.
If you are dreaming of a sea change and having easy access to all of the benefits of coastal living on your doorstep, get in touch today. We have a variety of lots available now at Jindee so you can take advantage of everything a connection to the coast has to offer.